OAK: How long have you been doing it and who trained you?
TE: For a little more than two years now, it's been my day to day job being a barber. I learned the basics by just being around the shop here. I believe that you learn most by simply keeping your eyes open and watching the other barbers. You have to work hard and also put in some practice cutting hair during your time off. That is why, I also work as a barber when I'm travelling. That's when you learn the most.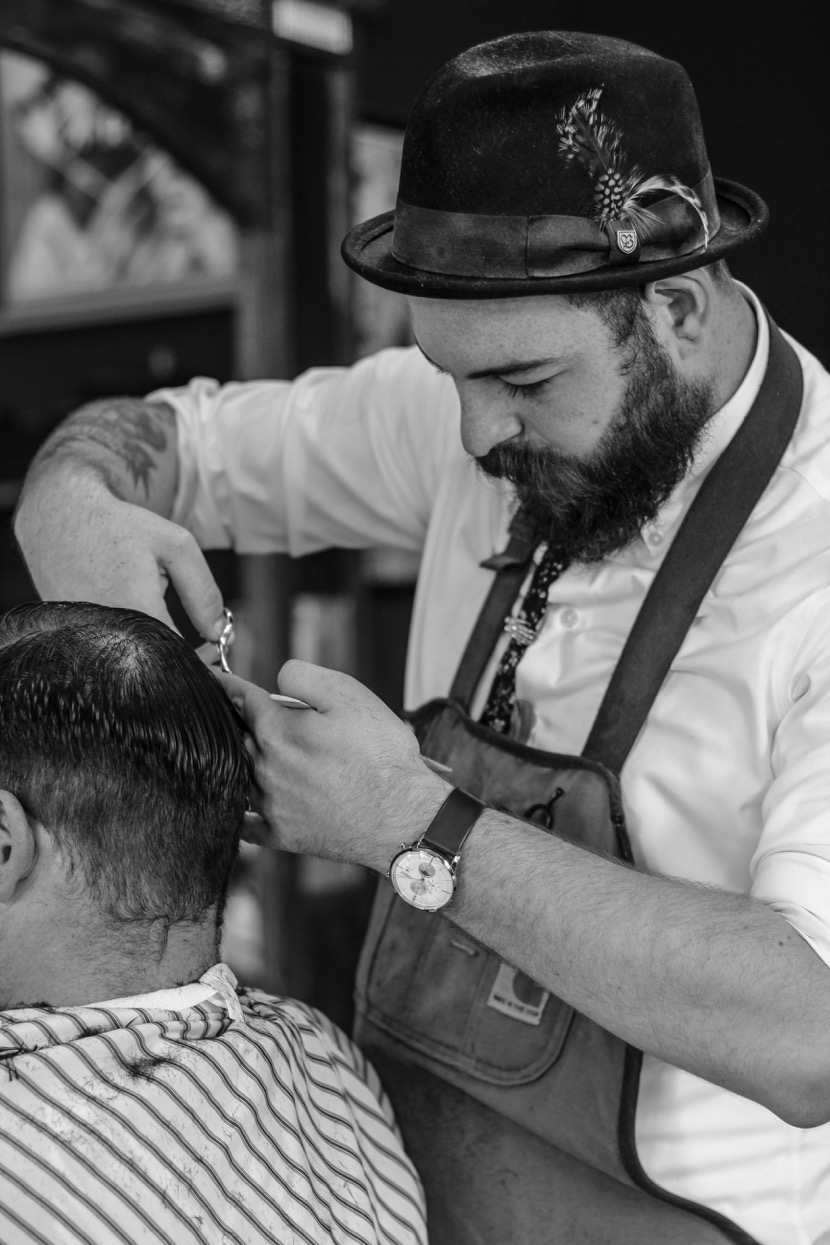 OAK: Do you have a special technique or a speciality?
TE: I don't think that anyone really has a special technique as we watch and follow each other's work a lot. Naturally, we all have our own little moves. But most of what you do is done that way because you saw it somewhere.
OAK: What are you most mindful of when you're with a customer?
TE: It's important for me that beard and haircut make for a decent overall look. The head should feature angular shapes as much as possible. That lends the most masculine look but, unfortunately, most men mainly have a round head. The basis usually determines all the possible shapes and that's what you go by.
OAK: What do you like most about your job?
TE: I actually prefer cutting hair. You can do a lot more with it than with beards. When a customer has good hair and you can shape it at the end until it's just right, that is definitely good fun.
OAK: What did you have most respect for as a trainee? 
TE: What I found most difficult at the beginning were clean fades. Today I know that a perfect long trim on the sides is the biggest challenge. If you can do an 100% clean one you're a true master of your trade. In my eyes, the Flattop Boogie is the benchmark in this respect. The sides have to be perfectly symmetrical, lie flat and on top not a single hair should be too long or too short. The cut is unforgiving when it comes to mistakes.
OAK: How much of an artist is there in a barber?
TE: That wholly depends on what the barber offers. I believe that as an old-school barber I'm more of a craftsman than an artist. But there are many modern barbers nowadays who are certainly more artistic.
OAK: What inspires you at work today?
TE: Pretty much everything that has to do with cutting hair, beards and shaves. You can learn a thing or two from this craft and make it your own thing. At the same time, I enjoy looking at stuff from the 20s through to the 50s. Back then, the styles we offer here today were everyday fare.
OAK: Have you ever refused a customer's request?
TE: We reject requests every day. We have a poster with 12 haircuts. That's what we offer and nothing else. If a walk-in wants an undercut half the shops start laughing. Because every regular customer knows that we don't do them and hate them. The same goes for a long-length haircut. We do the classics here.
OAK: Thanks for your time, Tim!